The walnut live edge perimeter surrounds a floating walnut and maple block construction solid wood chessboard that is finished to perfection.
No two boards are alike and every one is entirely original as planned by John. With a 2″ square, there are a myriad of chess piece designs that will fit the chessboard, thereby more so a one-of-a-kind piece to be treasured by its proud owner.
The solid wood chessboard is made by John who is dedicated to his craft, producing the finest. Even Magnus Carlsen has played chess on his works of art.
John has developed a very unique process of block construction that results in an extremely durable solid wood chessboard that will not crack with temperature and humidity changes.
The three coat finish is carefully applied and results in a lustrously smooth and vibrant piece.
As a result the natural wood grains are celebrated.
Each square on the chessboard is perfectly aligned and bordered by a small groove that is in itself unique to John's designs.
The raised, floating 64 playing squares emphasize the contrasting walnut and maple playing field bordered by the live edge walnut.

Paired with a set of wood pieces, there are a myriad ways of making this piece even more a personal treasure and place to enjoy the timelessness of the game and the material on which it is played.
The closer one observes, the more the unique grain stands out and the excellent craftsmanship becomes evident.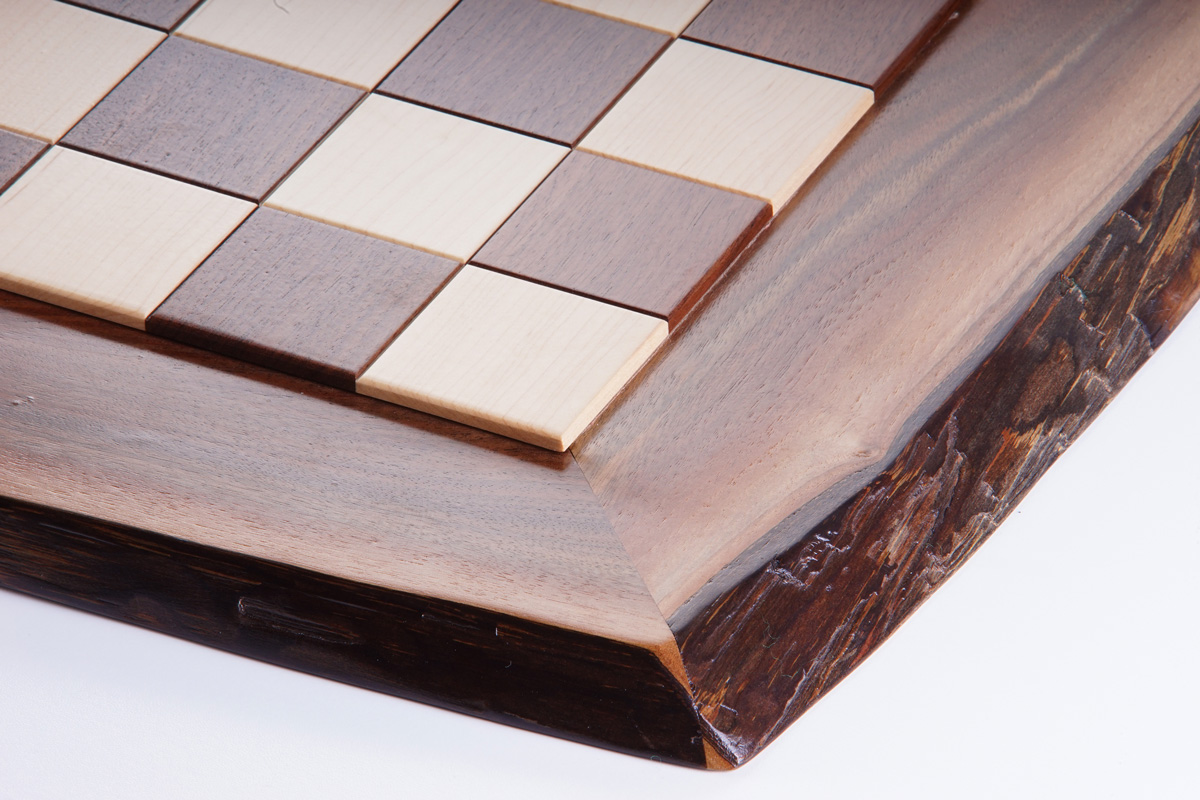 Even the side which is not normally viewed is finished with the same care and the floating inset construction is seen.
Imagine how unique a story each piece of wood tells
The chessboard shown is not for sale, however some time in 2016, similar live edge boards may be announced. Feel free to comment or express interest by joining the discussion below. If it does become available, we'll post more news on this page.
For now, you can view more great wood products by the artist JLP here.